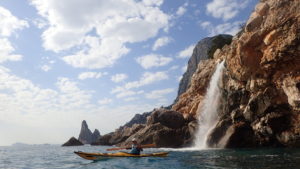 Our association also offers a kayak hiring service to make it possible to go completely by yourselves on our tours with all the useful information for paddling in complete safety to discover the secrets of our coastline.
We have basic sea kayak models both singles €50 and doubles €75 in fibreglass specially made for daily excursions and professional single sea kayaks for experts in fibreglass made for long distance trips.
We also offer the hire of equipment for the professional paddler, such as spray decks in neoprene or nylon, life jackets, dry boxes for keeping small personal items, dry bags and tents and camping equipment.
According to the point of departure an extra charge will be made for transporting the kayaks and the equipment, and in parallel we offer a service to recover the kayaks and clients from their point of arrival with the kayak.